Taiwan Steamed Pork and Soy-Pickles "Meatloaf"
03/30/19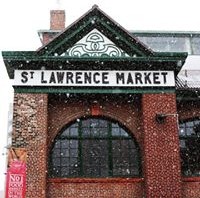 This well-loved Taiwanese dish varies from home to home in small ways: some steam it in a large ball, others like it flattened; seasonings can vary but the two main ingredients, pork and soy-pickled cucumbers, are always the same. The pickles are made from small cucumbers and are either preserved whole or sliced in a sweetened soy sauce mixture; they are available bottled in most Chinese grocery stores. Use semi-lean pork, and stir the mixture in one direction only for the best texture.
14 oz / 400 g ground pork
1 fresh duck or chicken egg
⅔ cup / 150 mL chopped Taiwan soy-pickled cucumbers
⅓ cup / 75 mL finely chopped green onion
⅓ cup / 75 mL finely chopped coriander (stems and leaves)
2 tbsp / 30 mL cornstarch or sweet potato/potato starch
2 tsp / 10 mL minced or grated ginger
2 cloves garlic, minced
1 long hot pepper, finely chopped, or 2 Thai chilies, minced
2 tsp / 10 mL sesame oil
1½ tsp / 7 mL clear Chinese rice wine
1 tsp / 5 mL dark soy sauce
¼ tsp / 1 mL white pepper
Coriander leaves for garnish
Place all ingredients (save the garnish) in a bowl and mix, in one direction only, until mixture firms up and is smooth. Scrape into lightly oiled heatproof shallow bowl or pie plate. Steam over medium-high heat for 23 to 25 minutes until cooked through in the middle. Garnish with coriander leaves. Serve with rice.