ORECCHIETTE WITH SAUSAGE AND BROCCOLI RABE (RAPINI)
02/21/20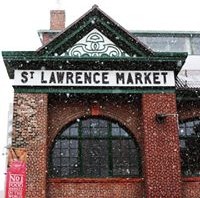 Makes 4 servings
1 large bunch broccoli rabe (washed and trimmed)
1 lb Italian sausage, removed from casings
1 tablespoon olive oil
5 to 6 cloves garlic, chopped
10 oz orecchiette pasta
1/4 cup grated Parmigiano Reggiano
Crushed red pepper flakes (optional)
Cut broccoli rabe in quarters. Bring a large pot of salted water to boil. When it comes to a rolling boil, add broccoli rabe. Blanch for about 1-1/2 to 2 minutes; drain and set aside in a colander.
Re-fill pot with water and salt for the pasta and bring back to a boil. Add pasta and cook according to package directions for al dente. Drain and set aside, reserving 1 cup of the pasta water.
Meanwhile, in a large deep sauté pan, brown sausage on medium heat, breaking up into small pieces as it cooks. When completely cooked through set aside in a dish or a bowl. Add olive oil to the pan; when hot add garlic and cook until golden (don't burn). Return broccoli rabe to the pan, mix well with the garlic and oil, season with salt and pepper and cook about a minute. Return cooked sausage to the pan and mix well.
Drain pasta and add to the broccoli rabe. Reduce heat and stir for about 30 seconds. Add half of the pasta water, cheese and red pepper flakes, if using. Adjust salt and pepper to taste; toss so that everything is well mixed, and the pasta is coated with the sauce. Remove from heat. Transfer to serving bowl and serve with additional cheese and chili flakes at the table.